Weather and Photography by Jane Gough, Melbourne, Australia
Latest Additions and News
Last Updated: 7th December 2009.
Melbourne's current water storage: 37.9% full and rising.
Hi everyone! My online weather station is back up and running. You will find it here! Please keep visitng as I'll update the pages with some photos soon.
A vigorous cold front brought low level snow to parts of SE Australia on 10th August. Snow was reported as low as 200m asl in Victoria, and I made a quick dash up to The Dandenongs mid morning to see what I could find! I certainly wasn't disappointed, as snow was falling and settling as low as 300m asl. Click the image below to see my photos, a small report will follow shortly.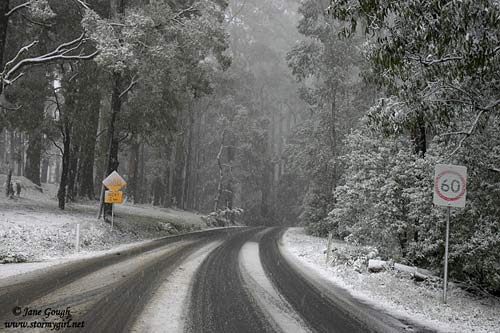 Our first low level snow event for the year occured on May 17th as a fairly strong cold front pushed through bringing snow down to approximately 700m asl. I took a trip up to Mt Donna Buang in the afternoon, and was pleasantly surprised at the amount of snow I saw! It was a beautiful start to winter...yet it's still autumn! More images online soon.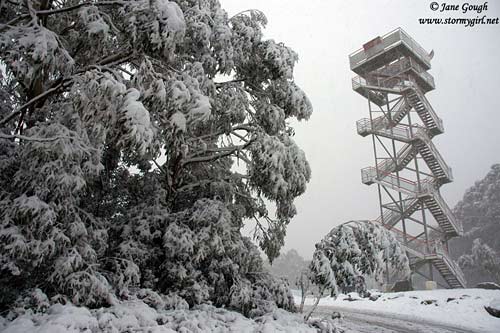 On May 2nd, an upper trough behind a cold front triggered a line of thunderstorms across the Melbourne Metro area, and progressed north eastwards into other parts of Victoria. The thunderstorms didn't bring terribly much rain in my area, but I did experience some small hail, and a great view of the back edge as it continued to develop and progress north.
Images and a very small report are online now!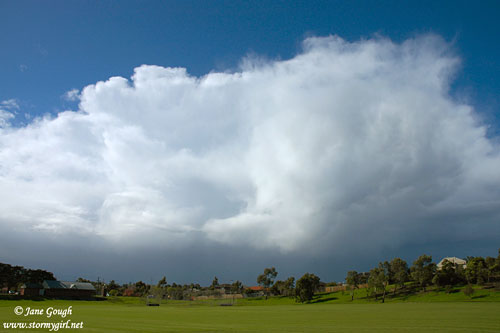 My report and images from the severe storms on December 20th last year, are now online,
Please click the image below.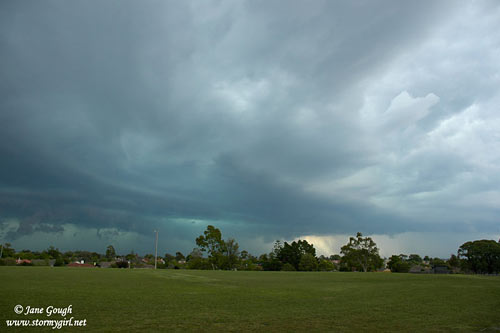 Wild Weather Wednesday!
The remains of ex tropical cyclone 'Pancho', interacted with a vigorous cold front in the Bight, producing an intense low pressure system on 2nd April. This caused chaos across Victoria and Tasmania, as winds equivalent to a Cat 2 cyclone buffeted the two states. There were severe winds, squally rain showers, snow, dust storms, mud and fires as broken branches pulled down power lines. The end result has been fairly devastating, with 3 lives lost in Victoria, many people with damaged cars and houses, traffic delays, power outages to many homes and the SES with a huge cleanup to attend to. Images and report online soon.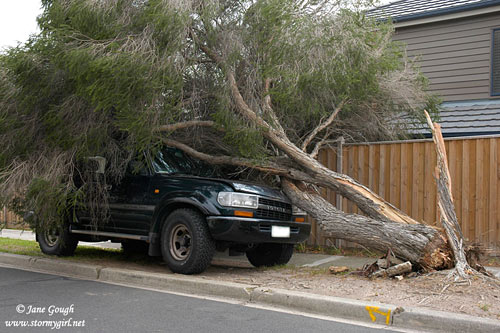 I have recently returned from another week's holiday in the beautiful Tasmania, visiting many different places to what we saw last year, and revisiting some favourites. Images will be online in the next few weeks.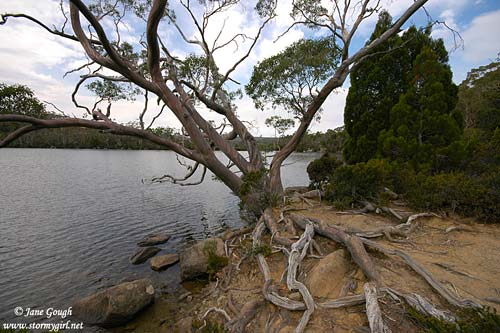 After some major PC issues, my live weather station is now online again, and I hope to publish many images over the next few weeks from Summer, including the remains of a small 60 hectare bushfire at Dromana on the 11th January.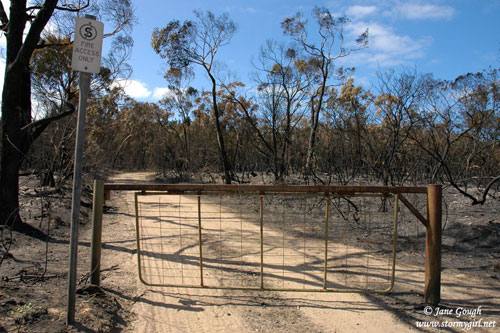 I have returned from a few weeks spent on the Mornington Peninsula, exploring the wonderful sites, and photographing the gorgeous countryside.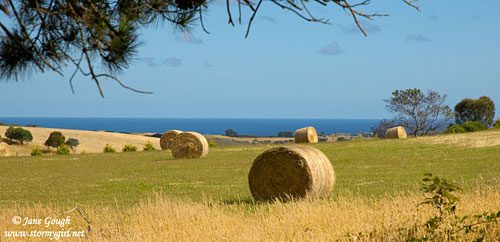 Heavy rain and storms bring flash flooding to Melbourne's eastern suburbs on Monday December 3rd. I was unable to chase today due to prior commitments, but certainly enjoyed the rain and sound of booming thunder from my home for a change! I photographed Scotchmans Creek, which broke it's banks at several locations, around Oakleigh and Mt Waverley, and encountered flooding across Regent St in Mt Waverley. Certainly made up for the 'bust' chase I went on the day before! Small report and many flood images will be online shortly.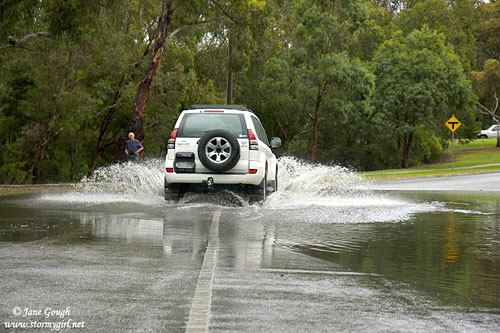 Spring has sprung and storm season is now upon us...we just have to wait patiently for rain, unfortunately! We have had the 'odd' passing shower now and then, but things are pretty desperate. This time last year, I had received over 100mm of rain MORE than what I have this year...and last year was dry enough. Hopefully things will turn around soon, and we get the rain we so desperately need.
I was at Flinders on the Mornington Peninsula during one of the 'odd' showers in the late afternoon of the 26th September, and managed to capture a rainbow over Western Port Bay. Click on the image below to see more from the day.
A vigorous cold front crossed Victoria over the 17th and 18th of July bringing snow to the Central Ranges in Victoria, and to The Dandenong's in Melbourne's outer east. I photographed the remains of a 7cm cover of snow around the Olinda and Sassafras area. Images are now online, report to follow shortly! Please click the image below to see them all.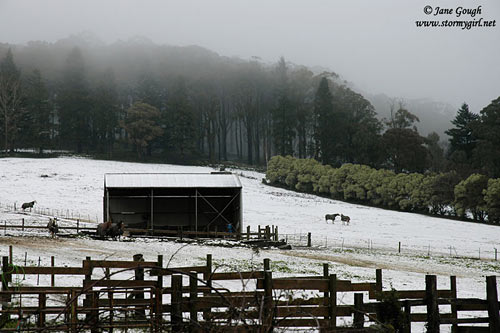 An afternoon's trip to Mt Donna Buang on Saturday 7th July, and I was treated to a beautiful cover of snow, up to 15cm on the summit! Click image below for all the pictures!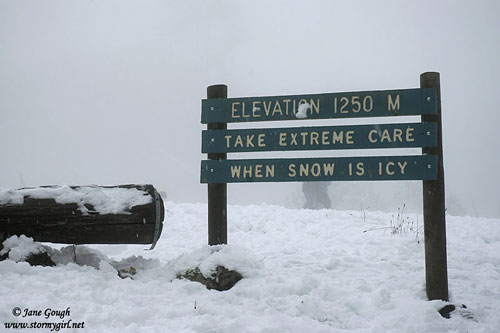 | | |
| --- | --- |
| | I was featured in an article in Melbourne's City Weekly Magazine on the 14th June 2007. The article featured various people who 'thrive on the cooler climes and embrace the thrill of the chill' in Melbourne. A scanned copy of the article is now online! Please click on the image. |
I travelled to Mt Donna Buang for a short day trip on the 18th of June, in the hope of catching a snow shower. There was no snow, but I was treated to a lovely frost and below freezing temperatures instead. Click the image below for the report.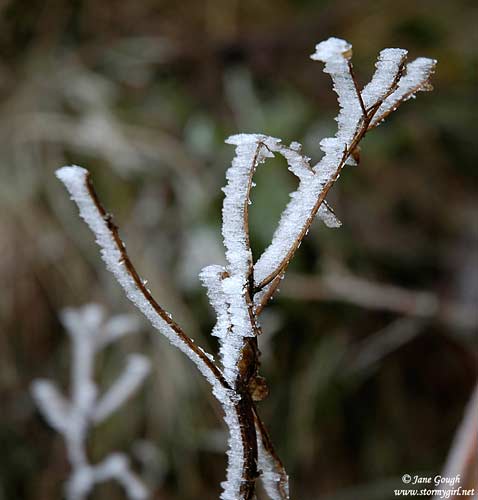 A cold winter has finally arrived in Melbourne after a mild autumn. The 14th of June saw a very foggy day in Melbourne, and the opportunity arose to photograph it! Click the image below for the report and images.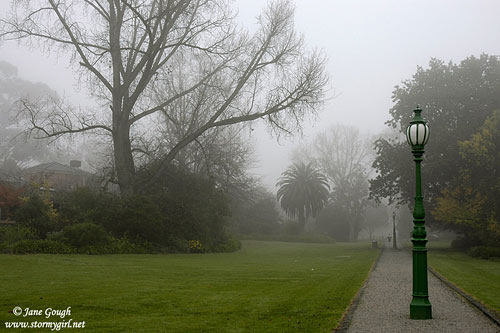 I currently appear in an article about photographing "The Perfect Storm" in the May/June edition of Capture magazine. I was interviewed alongside veteran Australian stormchaser Jimmy Deguara and legendary USA chaser Tim Marshall. The article also features some amazing images by Western Australian Photographer Radek Dolecki.The story is now online. Please click the 'capture' image.

'Capture' magazine image copyright Yaffa Publishing.
Images from my recent trip to Tasmania are now online! Please click on the image below to go to Day one, and follow the links to the remaining pages.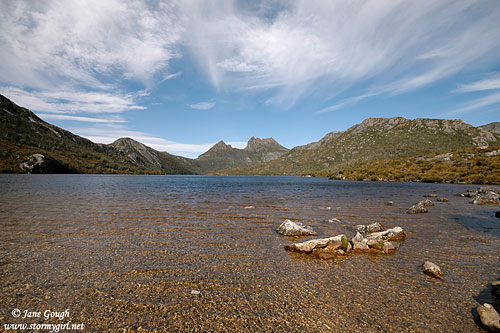 All images contained in this site (unless otherwise stated) are copyright © Jane Gough 2006, and are not to be used without written permission. The logos on this page remain the property of their respective owners, and should not be used without prior consent. This site is not endorsed nor approved by the Bureau of Meteorology.