Weather and Photography by Jane Gough, Melbourne, Australia
February 11th 2006 ~ Central Ranges Victoria.
A deepening trough over NSW and into VIC, as well as an upper cold pool was giving us some much required instability for storm development! With this happening over the weekend - it all sounded too good to be true.
Friday night saw storms develop over the South East parts of the state including Sale. More storms developed in East Gippsland and just offshore near Wonthaggi on Saturday morning, as seen in this satellite image. Courtesy of Brisbane Storm Chasers and the NPMOC (Yokosuka). The MSL Analysis courtesy BoM.
-----------------------------------------------------------------------------------
Severe Thunderstorm Warning
For people in the East Gippsland, West and South Gippsland, Alpine and parts of the Northeast and Central Forecast Districts.

Issued at 2:59 PM Saturday, 10 February 2007.

Severe thunderstorms are likely to produce very heavy rainfall, flash flooding, large hailstones and damaging winds in the warning area over the next several hours. Locations which may be affected include Morwell, Traralgon, Sale, Moe, Bairnsdale and Orbost.

Severe thunderstorms have been identified on radar over East Gippsland and over the sea just to the southwest of Wonthaggi. Thunderstorm activity is likely to continue for the rest of today and into tonight.

-----------------------------------------------------------------------------------
Above warning courtesy BoM.
Storms and heavy rain continued throughout the day, and into the night. I was woken by distant rumbles at 4am from a cell which passed near Bendigo, and again at 6am from passing storms near Pakenham and Cranbourne. Up until 9 am on Sunday morning, Wilsons Prom ended up with 50mm, Mallacoota 44mm, Bairnsdale 47mm, East Sale 12mm and Orbost 15mm. I recieved 1mm from a passing shower!
Sunday was always expected to be the 'better' day for storm development around the Ranges, and I certainly wasn't disappointed! Below is the Convective Outlook chart courtesy of Weatherzone, and the Thunderstorm Forecast Chart courtesy BoM. The animated radar is courtesy of BoM and Strike One, and shows the frames from early afternoon once convection had begun, until early evening. I have had to use the Yarrawonga radar, as the Laverton one is offline and I don't have access to Melbourne Airport radar archive.
My chase partner and I began our journey from the SE Suburbs in clear skies at 1pm, and headed roughly North West towards the Central Ranges along the Hume HWY. We could see upon leaving development already towards the North. As we drove through Wallan, we stopped to photograph the back end of a cell which was passing over the Riddells Creek towards Macedon area. We took the Northern HWY towards Kilmore and also photographed it behind some farm building ruins!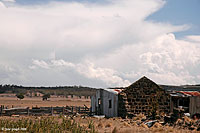 At 1:40pm, we stopped in Kilmore to fill up the car and noticed the roads were slightly damp from the previous cell, and also fresh updrafts on the Northern side of the Macedon cell. They were quite pulsy though, and no sooner had one tower gone up that a few minutes later it had lost it's crispy defined shape and flattened out. It certainly kept on trying though!
We had turned off the Northern HWY at Kilmore and traveled towards the Calder FWY via Lancefield. At 2:10pm we noticed through trees and hills that the back end of the original Riddells Creek/Macedon cell had literally put up some explosive updrafts. It was an amazing sight, but due to the local topography and foliage, it made viewing the base of the updrafts a little tricky! It didn't last terribly long however, and 15 minutes later all that was left of it was some fibrous anvil!
We decided to push on North up the Calder FWY to try and locate a vantage point to survey the area and see what was around. That proved more difficult than we first anticipated, with trees and hills constantly in our way! We finally found a clearing just to the south of Bendigo at 3pm and noticed a cell to the west that had been through the area. The second image is the same cell in the distance with the anvil of the next approaching storm, which was the catch of the day!
We turned off the FWY to the East and drove down Sheltons Road in the Spring Gully region. We encountered a fair amount of fresh leaf litter on the road and eventually pulled over at 3:30pm to find hail drifts. Looking around we discovered some stones, measuring just under 2cm. Considering the cell went through the area at approximately 2:16pm (according to the radar) , it is possible these stones could have been larger. As we were walking along the side of the road, distant rumbles from the next approaching cell could be heard, as well as some weak mammatus forming overhead. A good sign of things to come! The radar frame below is courtesy of the BoM and Strike One. It shows the 'Bendigo hailer' in approximately the position we were when we discovered the hail drifts, and also at it's most intense returns.
The following 3 images were taken by Rik Pool from Strathfieldsaye between 1:58 and 2:05pm, showing the structure and rain shaft of the cell we encountered the above hail from, and the one shown on radar.
Finding a vantage point in Bendigo was certainly a challenge, and we didn't want to get too far away from the rumbling cell that was to the SE of us. We knew there wasn't a good viewing spot down the Calder to the South, so we drove to the east, and came across a great spot in Flora Hill overlooking the cemetery at 3.55pm. Mammatus was still trying to form overhead, and distant rumbles could be heard, although we didn't observe any lightning at this stage.
We drove further east along the McIvor HWY and I quickly snapped some images, at 4:10pm, of the cells when there was a clearing from the trees. It certainly looked impressive, to say the least, and we needed to find an open southerly road option to gain a better view.
At 4:20pm we took a right turn at Longlea and stopped near a farm to photograph the cell as it drew closer. A great opportunity presented itself with the windmill and tank, but unfortunately due to the increasing spitting rain and closer proximity of lightning, we made a hasty retreat. There were certainly some interesting outflow features of this storm, and a slight teal colour in the clouds too. As the core reached us whilst driving the rain wasn't as heavy as we had imagined it would be, and we didn't hear any hail. The radar image, courtesy of BoM and Strike One, is taken at 4:26pm and shows a small multicell line beginning to form and the 2 separate cores we had seen.
We drove a little further east to the Lake Eppalock spillway which was bound to have a great open view. Unfortunately there is hardly any water in the lake, and I believe it is down to 4-6%. It will take many months of rain to fill her up again. These images were taken at 4:50pm of the back end of the multicell as it headed further towards the south west.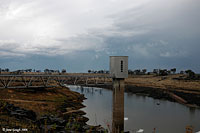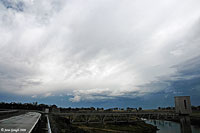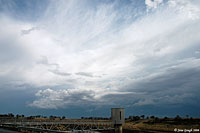 As there was nothing of notable interest happening towards the North east we decided to catch up to the storm again as we headed for home. We drove through Redesdale which apparently scored 13mm of rain in 15minutes from the passing storm this afternoon. I do recall the paddocks looking very puddly! We ended up in Kyneton with moderate rainfall consisting of large drops and a few close lightning strikes. The gutters were over flowing and a blocked drain resulted in flooding across the road. The same line of storms also caused havoc in Castlemaine and Harcourt with flash flooding, strong winds and blocked drains resulting in flooding of homes.
As the storms retreated towards the East, we stopped off at the Lancefield turn off of the Calder FWY at 6:00pm to gain a better view of the back end and the rain shaft.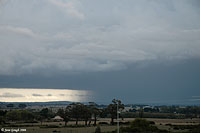 The satellite image below shows the multicell line through Castlemaine to Kilmore at approximately 4:30pm. The Lightning Tracker shows images from approximately 2:50pm, 3:30pm and 4:30pm respectively. Thanks to Strike One.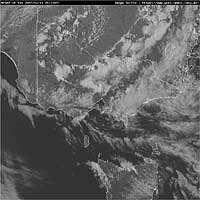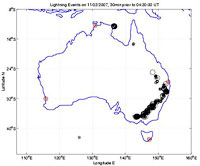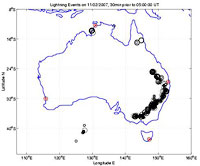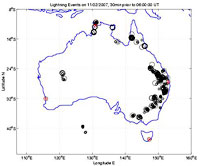 While we were out and about, although Melbourne itself did not receive any rain and storms, they were not spared the severe weather conditions, and the BoM issued a warning for strong winds, with gusts expected to be 100km/h. The SES were inundated with calls for help as power lines were blown down in some areas including Brighton, St Kilda and Bentleigh. Trees were also blown down across roads, and scaffolding on a building fell down in Poath Road, Hughesdale. I recorded a wind gust of 37.4km/h.
It was a great afternoon chasing and photographing and many thanks to my chase partner for their company and use of their vehicle!





All images contained in this site (unless otherwise stated) are copyright © Jane Gough 2006, and are not to be used without written permission.