Weather and Photography by Jane Gough, Melbourne, Australia
February 14th & 16th 2007 ~ Melbourne SE Suburbs


It has been a fairly busy time in Victoria with storms somewhere in the State from the 10th of February right through until the 18th. Although most of the action has not effected the Melbourne Metro area, the amazing cloud structure from distant storms had not gone unnoticed! I was lucky to have the opportunity to chase in the Central Ranges on Sunday the 11th, and my report can be found here.
On wednesday the 14th a storm developed over the Ballan area in the early afternoon, and was clearly visible from a local lookout approximately 80km away. These images were taken just before 2pm and looking towards the NW across the city, and I have adjusted the contrast to show the cloud structure through the haze.


There was also signs of decent convection across the NE Ranges past the Yarra Valley. I headed up to Doncaster Shoppingtown rooftop car park for a better view. I was very disappointed to learn the view across the city to the west has been closed off due to construction, but I was still able to see towards the NE. The CU wasn't really getting organised or increasing in size whilst I was there, and due to the heat I decided to return home. Below is the last image I took while I was up there, followed by what developed soon afterwards towards the Kinglake area, so it was back to the lookout I had been to earlier to photograph the developing anvil.

More storms developed across the Ranges in Central and Eastern parts of the state on Tuesday 15th, including one cell that briefly produced a weak tornado, which was caught on camera by Vic chaser Clyve Herbet, North of Melton that afternoon.
On the 16th, there was a better chance for storm development closer to the Melbourne Metro area, as the expected stronger North winds were to keep the sea breeze at bay. Development kicked off a lot earlier in the day with a small morning cell at Melton, and plenty of AcCas and mid level moisture around.
Towering CU was developing in Geelong and along the Ranges around Midday, and by 1:30pm, the BoM had issued it's first thunderstorm warning.
---------------------------------------------------------
Thunderstorms are again likely across much of the state today and most will be slow-moving. Combined with high atmospheric moisture, localised flash flooding is a concern over most parts today. There is also a risk of damaging winds with thunderstorms and a slight risk of large hail.
Thunderstorms are likely to be more isolated about the northwest and are only a slight risk about parts of the east coast.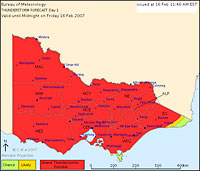 SEVERE THUNDERSTORM WARNING
for FLASH FLOODING, DAMAGING WIND and LARGE HAILSTONES
For people in the Northeast, North Central, Central, Alpine and parts of the East Gippsland, West and South Gippsland and Western Forecast Districts.


Issued at 1:26 PM Friday, 16 February 2007.


Severe thunderstorms are likely to produce very heavy rainfall, flash flooding, damaging winds in the warning area over the next several hours. Large hailstones are also a risk about elevated areas. Locations which may be affected include Omeo, Ballarat, Seymour, Geelong, Melbourne, Traralgon and Moe.


At 1:10pm a slow-moving severe thunderstorm was identified on radar 7km to the north of Omeo. Radar also shows rapid development of further thunderstorms along the ranges as well as across Gippsland and near Geelong.
---------------------------------------------------------
Above thunderstorm forecast, chart and warning courtesy of the BoM.
All day I had been surrounded by CU, and finally development began overhead around 2:30pm.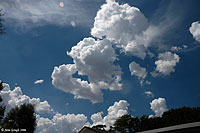 By 3pm CU was popping up everywhere, growing rapidly and I was out the door for a look around. First stop was to have a look at the cells over the other side of the Bay around Geelong and Werribee. I noticed a developing cell to the North with a pileus top too. Dark bases began appearing towards the East.
Home again, and at 4:15pm my husband rang to report thunder in Ringwood. By 4:30, I too could hear distant rumbles, and it was back in the car to find a close by vantage point, but snapped the first image below before I left! Once at my vantage point, I began watching the lightning from the cell over in the West, but noticed the cell towards the east had back built towards me. A lovely RFB was above me (4:42pm), while the rain curtain in the East appeared to be getting closer, and was dropping visible CG's! (4:48pm)
I decided to head to The Glen Shopping Centre car park, as it was fairly close, and knew I'd be able to see something from there. I actually didn't have to drive too far at all when the first huge 'splats' of rain fell on the windscreen. It then began bucketing down and by 5:02pm the roads were awash and the CG's were close and frequent.
I turned right into Blackburn Rd from High Street Rd. The traffic lights were playing up and flashing due to very close lightning. There was one strike within 100m near Syndal Station which made me thankful I was safely in my car and not waiting at the bus stop under an umbrella like the poor sopping wet commuters attempting to get home! I made my way through side streets back to Mt Waverley and encountered flash flooding in several streets from gutters that simply could not cope with the torrents of water.
Once I had returned home I was surprised to see I had a total of 14mm in the gauge, falling at a max rate of 48mm/h at 5:31pm. 3km up the road towards the NE received 20mm.
At around 6pm a storm went through the Pakenham area, where local chaser Lindsay Knowles witnessed a brief tornado touch down. He didn't have his camera with him unfortunately, but the tornado was witnessed by several other people, and he is going to try and look for signs of a damage path.
Unfortunately I am unable to bring you any radar sequences from these days, as the information is currently coming from Melbourne Airport while the Laverton radar is being upgraded. I cannot get an archive for the Melbourne Airport radar.
Although I didn't have to venture far at all, it was wonderful to finally receive some rain and storms near home!
All images contained in this site (unless otherwise stated) are copyright © Jane Gough 2006, and are not to be used without written permission.