Weather and Photography by Jane Gough, Melbourne, Australia
December 19th & 22nd 2007 ~ Melbourne's SE Suburbs.
A major weather event was set to unfold across Victoria from the 19th to the 22nd of December, with early model predictions hinting at a surface trough, cold front and development of a major low pressure system. All this in combination with a very humid air mass was progged to bring falls around 50mm and up to 100mm in places across Victoria. What unfolded over the coming days was quite spectacular, bringing widespread thunderstorm activity, flash flooding, hail and reports of tornadoes.
This synoptic sequence shows the passage of the trough, formation of the low and subsequent cold front from 11pm Wednesday 19th until 5pm Saturday 22nd.

(200 KB file)
Images courtesy BoM and Australian Weather News.
As the trough entered Victoria on Wednesday 19th, thunderstorms developed in the Western, Mallee and Wimmera districts, prompting the Bureau to issue it's first thunderstorm warning for those areas. During the afternoon and early evening, thunderstorms continued to develop further east towards Melbourne, with some larger cells around the Ballarat and Torquay areas. The Bureau issued it's first warning for Melbourne and Geelong at 9:21pm, as thunderstorms were expected to continue into the night and development was still occurring, A squall warning for Port Phillip Bay was also issued after gusts of 85kph were experienced in Geelong. The severe activity soon died down and the warnings were cancelled after 11pm. Although there was some residual thunderstorm activity reported in the eastern suburbs overnight, I managed to sleep through most of it hearing no thunder, only rain. I received 5mm overnight.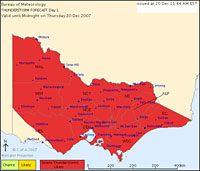 THUNDERSTORM FORECAST
Valid from midnight tonight until midnight on Thursday, 20 December 2007.

Severe thunderstorms with damaging winds, large hail and heavy rainfall leading to flash flooding are possible anywhere east of the the surface trough Thursday. The trough is expected in the far southwest in the morning and will progress east through the day.
Thunderstorm Forecast Chart courtesy BoM.
Development occurred during the morning on Thursday 20th as a line of severe thunderstorms developed around the Central Ranges (Ballan to Macedon area), and hit the CBD around 8:30am. Numerous lightning strikes and flash flooding was reported. Several tram services were thrown into chaos as lightning struck 2 trams. One was on the 67 route on St Kilda Rd, the other, a route 16 tram on the corner of Glenferrie and Gardiner Rd's in Hawthorn. Both trams had to be towed back to the depot for repair, and fortunately no one was injured.
The storms reached my area by 9:20am, while I was heading to Chadstone Shopping Centre (as you do so close to Christmas!). I observed numerous CG's over the CBD and inner suburbs. The rain hit just as I was entering the underground carpark, and the noise of the thunder and torrential rain was deafening, but wonderful, to say the least! The deafening noise brought 'funny' looks from shoppers wondering what on earth was going on outside! Upon returning home, I had 7mm in the gauge, and had recorded a max rainfall rate of 45mm/h at 10.24am. The storms cleared and warnings were cancelled just after 11am, but were followed shortly by very unstable conditions and more severe storms in the mid afternoon.
Cells began to develop shortly before 1pm in the west. The temp in Melbourne rose to around 28C with dps close to 20C. My maximum temperature for the day was 26.4C at 2:01pm, while my maximum dp was 19.6C at 1:31pm. A severe thunderstorm warning was issued for Melbourne at 2:44pm as the cells approached the metro area. At 3:30pm I had to venture out for the school run, and luckily the storms were still a distance away, although clearly viewable. I was absolutely amazed by the colour in the sky towards my south west. It was a beautiful teal green colour, something I cannot recall seeing in Melbourne in recent years. I instantly knew it could be a sign of hail, and possibly large.
After returning home I left my children with my husband, grabbed the camera and headed to the local footy ground which has a fantastic and mostly unobstructed view towards the south. I was in absolute awe of the sight which greeted me! Greenage galore! I knew I couldn't stay there for too long, as I didn't want to get caught driving home in it, and I observed numerous CG's ahead of the main rain shaft. I wish I had also grabbed the video camera to capture the CG's and the rapid movement of the low flying scud, but in my haste I had left it at home. I was only there for 6 minutes, but took as many images of the impending storm as I could! I made a hasty retreat to the car as thunder from intra cloud lightning rumbled directly overhead.



Upon returning home, I checked the radar as the rumbling got closer. The Bureau updated the storm warning at 4:05pm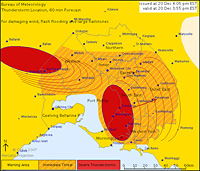 SEVERE THUNDERSTORM WARNING - MELBOURNE AREA
for DAMAGING WIND, FLASH FLOODING and LARGE HAILSTONES
For people in the Inner, South East, Eastern, Western, Mornington Peninsula,
Outer East, Western Port and parts of the Northern, Geelong and Bellarine
Peninsula and Port Phillip Local Warning Areas.

Issued at 4:05 pm Thursday, 20 December 2007.

The Bureau of Meteorology warns that, at 3:55 pm, severe thunderstorms were
detected on weather radar near Caulfield, Dandenong, Frankston and Bacchus
Marsh. These thunderstorms are moving towards the east to southeast. They are
forecast to affect Glen Waverley, Pakenham, Ringwood and Werribee by 4:25 pm
and Footscray, Melbourne City, Melton and St Albans by 4:55 pm.

Damaging winds, very heavy rainfall, flash flooding and large hailstones are
likely.
Warning courtesy of BoM.
What happened over the next hour, I cannot recall seeing anything like it in Melbourne for a very long time. The rain was absolutely torrential and relentless, and intermingled with the torrents was the odd falling hailstone crashing on the roof and cars. I cannot confirm the exact size of the hail (I was not going to risk my life going outside with a pair of calipers!), but it was over 2cm in size. Thankfully, there wasn't much of it! The gutters couldn't cope with the onslaught of relentless water and overflowed into the roof and down the walls of our kitchen under a small gap in the cornice. We literally had a waterfall pouring down the walls. We spent the next hour holding up buckets to catch the water, and mopping up the huge puddle on the floor with every available towel, as well as trying to comfort scared children. We must have emptied at least 20 litres of water from what we were able to 'catch'. During this time, I do recall seeing flashes, but because of the deafening sound of the rain I can't recall hearing much thunder.
| | |
| --- | --- |
| | The 64km melbourne radar image from 4:30pm EDT, with railway line overlay, at the peak of the storm over my area. |
| | The lightning tracker image taken at 5:00pm. |
Images courtesy BoM and Weatherzone respectively.
The rain, at it's peak, fell at a phenomenal rate of 261mm/h according to my weather station. I received a total of 57mm in an hour, 34mm of which fell in only 15 minutes. According to one news article, Moorabbin Airport received 15mm in just 6 minutes. There were many reports of flash flooding and damage, and in particular around the Waverley and Nunawading areas, where there were 300 calls to the SES in the Waverley area alone. Due to the clean up at home, I was unable to venture out to survey the damage and flooding, and also being right on peak hour I didn't think it was a wise move! Roads and some major intersections were flooded in many places, power was also reported to be out in some suburbs as well. Roofs had leaked, trees were down across streets and the train system was thrown into chaos as the Frankston, Pakenham, Cranbourne and Sandringham trains ceased running. Apparently, lightning had struck a train, and there were reports of branches down across lines and tracks. The Mordialloc Police Station was also closed due to flooding. By 6:30pm, the worst of it was over, and warnings were cancelled for the Melbourne Metro area. Once workers were able to make it home, they were greeted with flooded homes. I believe almost all residents of one particular Court in Mount Waverley had to rip up all of their carpets due to the flooding.
Clyve Herbet has video footage of a tornado he captured near Skipton, SW of Ballarat just after 3:30pm.
| | |
| --- | --- |
| | Victorian visible satellite image taken at 4:33pm EDT. |
| | Colour national satellite image, also at 4:33pm EDT. |
Images courtesy BSCH, BoM and Australian Weather News.
The complete radar sequence from 6:48am EDT until 8:42pm EDT on the 20th.

( 2MB file)
Radar courtesy BoM and Strike One.



On Friday, the Convective Outlook was looking lovely, to say the least, as a huge area of instability covered the State. By 10:10am The BoM already had a severe weather warning out for all districts for flash flooding and localised damaging winds. There was also a flood watch in place for areas in West and South Gippsland, the North East and The Otway Ranges. The rain band began to thicken over South Australia and the Bureau were predicting falls of up to 100mm in some places with it. Severe storms ahead of the main rain band could bring up to 40mm in some places too.
| | |
| --- | --- |
| | Weatherzone Convective Outlook for Friday 21st December. |
Convective Outlook Courtesy Weatherzone.
Storms began to develop in the north west of the state late morning, and by 1pm had developed around the western suburbs of Melbourne, and reached me just on end of year school pick up time at 1:30pm. I received 9mm from the storm falling at a maximum rate of 47mm/h. It was almost white out conditions and quite treacherous driving in it. There was a little lightning around, but once again the deafening rain drowned out the thunder! Before the rain hit, I had a max temp of 30.9C at 12:10pm. Upon arriving home after 4pm, we had to undertake another clean up of the flooded kitchen. Thankfully, it wasn't as bad as yesterday, and I had been prepared with numerous towels placed along the window and floor.
| | |
| --- | --- |
| | Melbourne 128km radar image at 1:35pm EDT showing the storm |
| | Melbourne radar image at 7:42pm EDT as a moderate line of storms passes through the north eastern suburbs. |
Images courtesy Bom and Strike one.
Although for the remainder of the afternoon it continued to rain lightly, things began to get heavier around 6:30pm, where I received another 23mm within an hour, falling at a rate of 116mm/h. The roof leaked and water began pouring down the walls in the kitchen and the catching of the waterfall with buckets began again. By 9:30pm some make shift repairs were undertaken...in the form of cleaning the gutters! Thankfully the rain had eased off, despite having another cell pass through after midnight. It only dropped 5mm of rain and the odd flash and rumble, so the walls survived. The Barometer was still falling. After peaking at a high of 1008Hpa on Friday 21st at 7:52am, it had steadily dropped to a low of 992Hpa at 2:28am on Saturday 22nd, where it remained for the next 3 hours.
The Central Ranges suffered plenty of damage today. The Campaspe River broke it's banks, and homes near Bendigo in Axedale, Barnadown and Goornong, were at risk of flooding. The Northern Highway was flooded, as were parts of the Calder Highway. The Goornong Police Station had knee deep flooding, and the Bendigo Indoor Sports and Leisure Centre had water across all 5 of their courts. Streets turned into rivers in Strathfieldsaye, Flora Hill, Spring Gully and Kennington, and the SES responded to over 80 calls in the Bendigo area.
Complete radar sequence from 11am EDT Friday 21st until 2:54 am EDT Saturday 22nd December.

(4MB File)
Images courtesy Bom and Strike one.
On Saturday, the temperatures continued to fall as the cold front passed, the winds swung around and the system brought further squally showers to some districts, chiefly southern and mountain areas. The temperature at home hovered around 15C for most of the day, getting as low as 13.8C at 3:14pm, followed by 12.3C at 10:44pm that night. The next morning on sunday 23rd December, the temperature reached a low of 10.8C at 6am!
My rainfall figures from this system are as follows:
19th December/20th December - (5 mm)
20th December/21st December - (65 mm)
21st December/22nd December - (59 mm)
22nd December/23rd December - (10 mm)
My total rainfall for this system is 139mm, and 176mm for the whole of December, making it my wettest month since records on my weather station began.
Daily rainfall analysis (mm)

VALID: 9am 21st December 2007

Daily rainfall analysis (mm)

VALID: 9am 22st December 2007

Daily rainfall analysis (mm)

VALID: 9am 23st December 2007
Rainfall maps courtesy BoM and Australian Weather News.
As much as I would have loved to have photographed more of the storms and the flash flooding that followed, being so close to Christmas and having young children made it virtually impossible! However, I am lucky to have been able to photograph the structure and amazing greenage of the storm on Thursday afternoon. It certainly was an amazing site…for Melbourne standards!
~ Links ~
A link to Clyve Herbet's Skipton tornado images can be found at:
All images contained in this site (unless otherwise stated) are copyright © Jane Gough 2006, and are not to be used without written permission.