Weather and Photography by Jane Gough, Melbourne, Australia
January 26th 2006 ~ Mornington Peninsula
Australia Day this year saw storms develop across most parts of Victoria due to the presence of a low pressure trough, high temps and abundant moisture. There was a strong hot northerly wind, which was fanning fire outbreaks in Yallourn north, Anakie (Brisbane Ranges) and Kinglake regions. The temperature hit 40C at my home weather station at 4.00pm and around 35.5C at Flinders, where I was enjoying a holiday! The first storm of the day was observed towards the north over the Shoreham and Merricks area at 4.30pm. I saw a few CG's and heard distant rumbles, but nothing photograph worthy! A small storm moved through in the early evening around 6pm with a brilliant CG hitting the West Head Gunnery accompanied with booming thunder. After a quick check of the BoM's radar at 8pm, we decided to go for a drive up to Arthurs Seat for a more enticing view!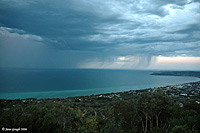 We didn't see any lightning from the top of Arthurs Seat, and so we decided to drive down the mountain to Dromana, where it began to rain and lightning was observed. As we drove back to Flinders the lightning increased as the storm passed over the Peninsula to the North of us. We were treated to a wonderful light show through Red Hill.
---------------------
TOP PRIORITY FOR IMMEDIATE BROADCAST
MELBOURNE SEVERE THUNDERSTORM WARNING
for Damaging Wind Gusts and Flash Flooding
For people in the greater Melbourne area, particularly the western,
northwestern, inner, eastern and southeastern suburbs, the Mornington Peninsula,
Western Port and Phillip Island.
Issued at 11:05 pm EDT on Thursday 26 January 2006

A few thunderstorms continue to move across the metropolitan area in the above
mentioned areas. Wind gusts to 110 km/hr may be expected with a few of these
thunderstorms, localised heavy rainfall is also now a possibility with repeated
downpours leading to areas of flash flooding.

---------------------
The above warning courtesy of the BoM.
We stopped off at the Flinders Memorial which overlooks Western Port Bay, and captured the lightning as it headed towards Phillip Island. The majority of the lightning was CC, with the occasional CG. I was lucky enough to capture a few strikes as they emerged from underneath the cloud base. Beggars can't be choosers, and these prove to be my best lightning images to date (the ones previously don't rate a mention!)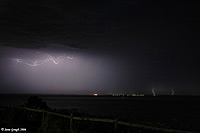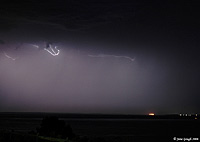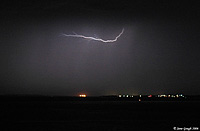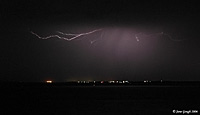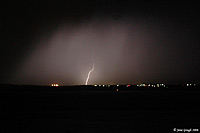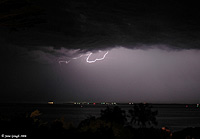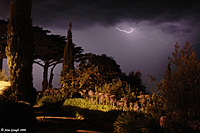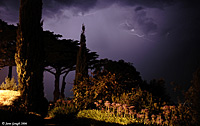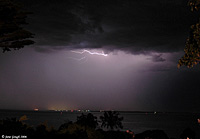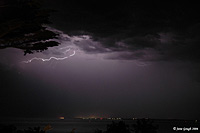 I was out photographing the lightning until 11.30pm, and it continued on in the distance until well after 1pm.




All images contained in this site (unless otherwise stated) are copyright © Jane Gough 2006, and are not to be used without written permission.