Weather and Photography by Jane Gough, Melbourne, Australia
Landscapes and Nature
~ January 2007 ~
Comet McNaught graced our Southern skies for several weeks during January. Unfortunately for several parts of Victoria we were under constant cloudy skies or smoke haze making finding the comet impossible. The first chance I had to see it was 22nd January and I was not disappointed! Well worth the wait and effort of taking all the gear down to the beach. It was also lucky this night that the moon had already set, and so the comet was very bright against dark skies. I had no idea it was this huge! I was expecting a tiny dot on the horizon. What an awesome site!
The images below were taken on the 23rd using iso1600, and unfortunately the comet was partly obscured by cloud along the horizon. Also this night the moon was still in the sky and casting ambient light around the surroundings.
Here are a couple of links to friends' sites who have also taken images of McNaught's comet.
~ November 2006 ~
The Long Weekend over Melbourne Cup was mainly spent down at Flinders, where I revisited a couple of wineries I had previously, and photographed the new growth on the vines. I also photographed around Pearses Beach - an ocean beach between Rye and Sorrento - and a few other landscapes around the Flinders area.




~ September 2006 ~
A day trip up to Woodend and Malmsbury North West of Melbourne with the family....and camera! Nothing terribly spectacular, but I enjoyed creating something a little different using Photoshop!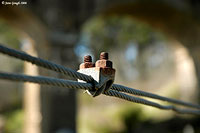 ~ August 2006 ~
A gorgeous Winter's day in Melbourne was spent in the Dandenongs at Sherbrooke Forest (and chasing Puffing Billy!). High contrast scenes with clear skies and sunshine reaching the forest floor made photography challenging!
~ June 2006 ~
Two weeks for the School Holidays was spent at Flinders on the Mornington Peninsula where I spent some time photographing around the Mornington Peninsula National Park. Areas included The Blowhole at Flinders, Cairns Bay, The Pines and St. Pauls Beach.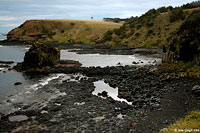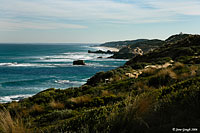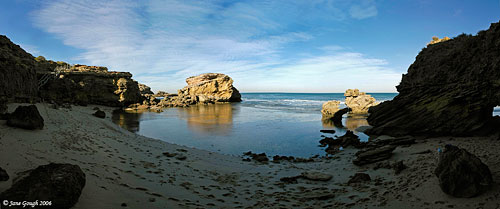 ....and a pan of my favourite lonely pine tree on the Boneo Road!

A quick trip to Marysville in the afternoon, and an even quicker stop at Steavensons Falls! I managed to take a few pictures in between making sure the kids didn't fall in!! It wasn't exactly a raging torrent, but great to get some fresh air, and drive through the stunning and picturesque Black Spur, just north east of Healesville.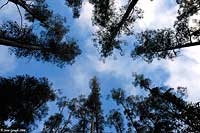 ...and a poorly put together pan with a few trees repeated (that will teach me to take pans on a wide angle).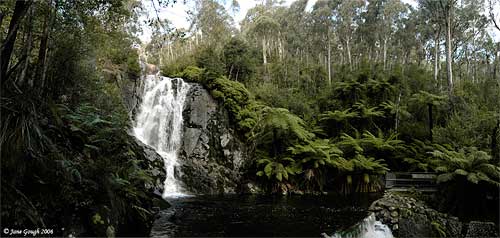 ~ April 2006 ~
Autumn colours at Red Hill on the Mornington Peninsula.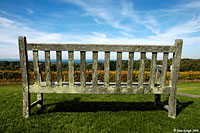 Click on the image below to see my photos from Adelaide.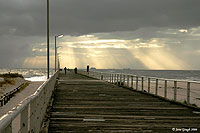 ~ March 2006 ~
A few snaps around Flinders, and my first Panoramas.



~ Christmas 2005 and January 2006 ~
I spent the majority of it around the Mornington Peninsula with the camera not too far away!
~ December 2005 ~
An enjoyable afternoon spent around the Yarra Valley photographing a couple of wineries.
~ November 2005 ~
I visited the beautiful Sherbrooke Forest in the Dandenong Ranges east of Melbourne to test out my new tripod! If it wasn't for the leeches biting me I would have stayed longer!
~ October 2005 ~
I joined fellow photographer and friend David Simpson for an afternoon at Steavensons Falls in Marysville. It was my first experience of photographing waterfalls, and found it a little challenging...all good practise, I guess! To view David's images from this day, visit here.
~ April 2005 ~
A trip to the Cape Shanck Lighthouse area on the Mornington Peninsula (no pics of the lighthouse though!)
~ February 2005 ~
A trip to the old Puffing Billy Trestle Bridge in the Dandenongs.
All images contained in this site (unless otherwise stated) are copyright © Jane Gough 2006, and are not to be used without written permission.