Weather and Photography by Jane Gough, Melbourne, Australia
Past Weather Events
~ Wednesday 10th August 2005 - Cold outbreak and low level snow! ~
A strong cold front was due to cross Victoria on Tuesday night bringing in it's wake a cold pool and the possibility of snow falling at low levels. Some models were predicting snow to as low as 200 - 300 metres above sea level.
As the sun set on the Tuesday, the temps across the state began to fall with Lookout Hill -1.0°C, Ballarat 3.8°C and Casterton on 4.0°C at 10pm, and by midnight Lookout Hill was down to -2.0°C, Ballarat 2.6°C and Casterton 1.8°C. Mt Dandenong was sitting on a chilly 2.8°C.
The initial front crossed me at around 7pm Tuesday night bringing small hail and 6.5mm of rain. At this stage I did not have my weather station, so unfortunately I didn't record any temperature readings.
Snow reports began filtering through in the early hours of the morning from Mt Buninyong, Meredith, and The Otways. As the morning wore on, more snow reports came in from Flinders and Main Ridge on the Mornington Peninsula. Heavier falls across South Gippsland were reported including Korumburra, Mirboo and Churchill and up to 60cm in some parts of the Strezlecki Ranges.
Some 10am temperature obs were as follows; Ballarat +0.9°C, Cerberus 2.2°C, Colac 1.0°C and Lookout Hill -3°C.
Snow was reported at many beaches including areas of Phillip Island and The Great Ocean Road, Inverloch, Wonthaggi and Grantville and some areas of The Mornington Peninsula. Other areas included The Grampians, Hamilton, Mt Macedon, Ballarat and Daylesford in the West, and some North Eastern and South Eastern suburbs including areas of the Dandenong Ranges. In the state's North East and Alpine regions, snow was as thick as up to 70cm, and snow was reported at Beechworth and Stanley.
Woodend recorded falling flakes as the sun set on the 10th, with approximately 1cm overnight and another brief fall at 5.45 am on Thursday 11th.
Although the elusive falling flakes failed to make it to my place, it was still a fascinating weather experience, and it was a joy to watch it all unfold in the warmth at home on my computer! It brought back many memories when 19 years ago on July 25th 1986, it snowed in Camberwell as I was walking in the gate to school!
~ Charts ~
Below is an animated gif of surface charts ranging from 10pm on Tuesday night, until 10pm on Wednesday night, showing the progression of the cold front and an animated satellite image from 4.30 am until 9.30 am AEST on Wednesday. The daily rainfall map is also shown, and a satellite image of the front and subsequent cold pool with snow bearing showers over Victoria and NSW. Please click on the 4 images for a larger veiw.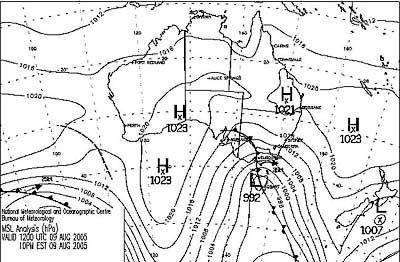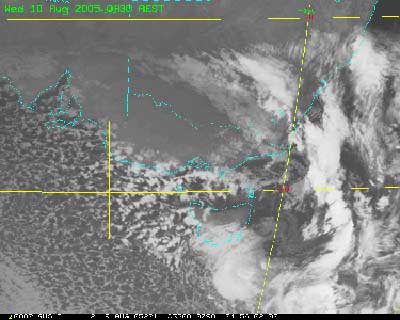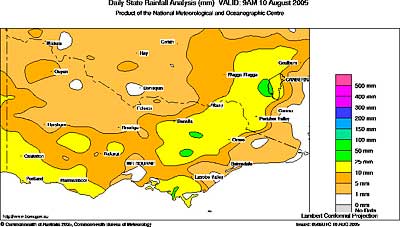 Above images courtesy of the BoM and Jane ONeill.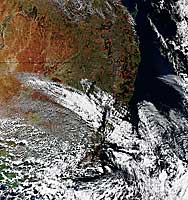 Above image courtesy of MODIS Rapid Response System.
~ Forecasts and Warnings ~
" WEDNESDAY 10/8/05: Strong northwest winds turning southwest early with high to severe wind chill conditions. Areas of highland fog and freezing drizzle with 'white out' conditions developing later, extensive ice on highland roads to sub alpine levels later in the day. Frequent snow showers tending to snow periods at times with heavy falls, snow descending to sub alpine levels through the day (400 to 600M) . Snow showers tending to favour the more southern and western Mountains towards evening, extreme cold overnight with severe frost. MIN TEMPS -4 to -2°C MAX TEMPS -3 to -1°C then lowering to near -6°C later in the day."


The above forecast courtesy of AusSnow and Clyve Herbet.
--------------------
Weather Pattern
A strong cold front will clear eastern Victoria early Wednesday establishing a
cold and unstable southwesterly flow. A high pressure system will strengthen
over the Bight on Wednesday and Thursday then slowly move to eastern New South
Wales on Saturday.

Victoria
Tonight and Wednesday: Rain areas and isolated thunderstorms this evening and a
generally fresh northwesterly wind shifting colder, gusty southwesterly from the
west. Showers to follow with scattered hail and local thunder. Snow on the Alps
gradually extending down to about 300 metres.


Forecast for Melbourne
Tonight and Wednesday
A period of rain tonight with showers to follow. Snow developing on the nearby
hills, but snow flurries also possible in the more elevated suburbs on
Wednesday. Local hail and thunder. Moderate to fresh north to northwesterly wind
shifting gusty southwesterly overnight.
Min 5 Max 10


Forecast for Port Phillip and Western Port
Tonight and Wednesday: North to northwesterly wind of 20 to 30 knots shifting
southwesterly overnight, then easing to 20 to 25 knots. Squalls to 45 knots
possible with showers and isolated thunderstorms. Waves 1 to 2 metres. A strong
wind warning is current.
Priority Road Weather Alert
Issued at 0925 on Wednesday the 10th of August 2005
for Southern and Mountain Districts.

Motorists are advised that further snowfalls in Southern and Mountain districts
today will lead to slippery and icy road conditions.
Forecast for Melbourne
Wednesday
A few showers, locally falling as snow. The chance of hail. Cloudy periods
with moderate to fresh west to southwesterly winds.
Max 10

Thursday
A partly cloudy day with a few showers. Min 5 Max 12
Friday
Shower or two. Min 4 Max 13
Saturday
Fine. Min 4 Max 14

Future Developments
Issued at 1130 on Wednesday the 10th of August 2005

A very cold and unstable southwesterly flow will continue over Victoria today.
A high pressure system will strengthen over the Bight today and tomorrow then
slowly move to New South Wales by Saturday.

Showers will continue, mainly over southern and mountain areas today with
snowfalls to sea level. Local hail and thunder in the south will contract
eastwards tonight as fresh squally west to southwesterly winds moderate.
The above warnings and forecasts courtesy of the BoM.
--------------------
~ Images ~

The following images were taken by Dane Newman who drove to Korumburra in search of snow!
~ Links ~
For a more detailed report of this event, please visit Laurier William's page from Australian Weather News.
Andrew McDonald was chasing in the Bass Hills area and has some wonderful images here too.
Tony Middleton's images from South Gippsland can be viewed at his site Wildcoast Images.
Shane Ekerbicer encountered snow at Mt Buninyong and Meredith. Seven images are found here.
For an interesting read of the event unfolding, please visit the Weatherzone Forum thread!
The BoM's Significant Weather Summary - Widespread snowfalls across Victoria.
~ Acknowledgements ~
Many thanks to Dane Newman for allowing me to display his images, Jane ONeill for digging up various charts and pointing me in the right direction, and to all the members on Weatherzone for saving warnings and forecasts, and for their wonderful detailed reporting!
If you have any reports or images from this day you would like to add, please feel free to email me, I'd love to see them!
All images contained in this site (unless otherwise stated) are copyright © Jane Gough 2006, and are not to be used without written permission.