Weather and Photography by Jane Gough, Melbourne, Australia
Tasmania April 2007
~ Day Two ~
knowing we had a busy day ahead, we woke up early. Our reward was a gorgeous foggy sunrise over Stanley and The Nut. The fog hugged the valleys and pastures for some time as we made our way to Cradle Mountain National Park, our first destination for the day.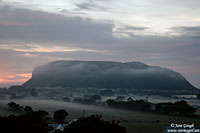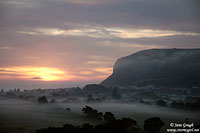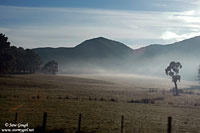 The first view we had of Cradle Mountain was along the road into the National Park from the Vale of Belvoir Conservation Area Lookout. The Mountain itself is such a widely known Tasmanian landmark, but to be there and experience it first hand was absolutely awe inspiring!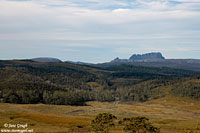 Since we had already purchased a National Park Pass on the 'Spirit', we by passed the Visitors Centre and headed towards Dove Lake. We did stop off quickly at the Ronny Creek Car Park to take in the views and a few photos! The weather couldn't have been better for a walk in this most remarkable Tasmanian World Heritage Area.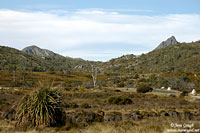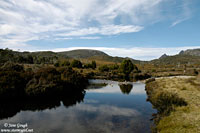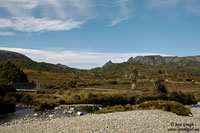 We managed to get one of the last car parks available by Dove Lake, registered our walking details, and headed off at 10:35am in an anti clockwise direction around the beautiful Dove Lake Circuit. The walk's suggested completion time is between 1-2 hours, and is approximately 6km in distance. Cradle Mountain itself was named by Joseph Fossey in 1827, after it's resemblance to a baby's cradle. The mountain consists of dolerite, was formed some 10,000 years ago from glaciers, and is 1545m asl. Throughout our journey we encountered Glacier Rock (formally Suicide Rock), beautiful beaches, the small Honeymoon Island at the southern end of the lake, Pandani, button grass plains, Fagus, Pencil Pines and Sassafras trees, the beautiful moss covered trunks in the Ballroom Forest, and the famous boat shed. The Pandani is the world's tallest growing heath plant and is found only in Tasmania. They can grow in the rainforests and sub-alpine areas. Like the Pandani, the deciduous beech, or Fagus, is also native to Tasmania, and is quite rare. Unfortunately we were slightly early in the season to see it's changing colour in full hue, but managed to spot a few yellowing leaves.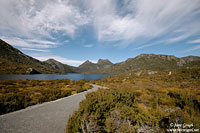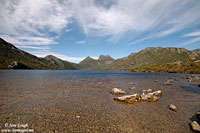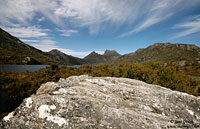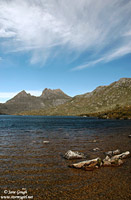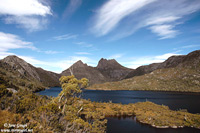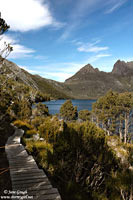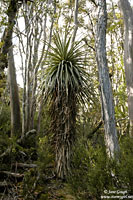 We completed the walk at 1:05pm (2 1/2 hours), but not surprising with the amount of photos I took! I would have loved to have spent the whole week here, exploring the various tracks and taking in the most beautiful scenery I have seen in Australia, so I guess I will be making a return trip in the future. I would love to be here with a small dusting of snow on the peaks!
After a brief stop for lunch in the visitors centre, we unfortunately had to bid farewell to this stunning area as we had a fair drive to Strahan for our next nights stay. We called in to Zeehan, an old Silver-lead mining town, to stretch the legs, then onto Strahan via the Henty Sand Dunes. Lying between a Pine Forest Plantation and the Southern Ocean are the massive moving dunes. At the carpark we were faced literally with a wall of sand roughly at a 45 deg angle to climb (first 2 images below!). This was not an easy feat! Once on top of the giant sand dunes, we could see all the way to the ocean, a view only interrupted by more sand and the odd piece of drift wood, grasses or small coastal shrubs.
The pan below doesn't quite do this area justice, but does show the vastness of the sand dunes.

A weak cold front had crossed the coast and it was slightly spitting while we were there, but unfortunately we didn't experience the 'roaring forties' this place could be exposed to. Again, much more time was needed to explore this unique landscape, but we wanted to have a look around Strahan before the sun began to set.
We arrived in Strahan in the late afternoon, headed to our B&B to check in, then for a look around this gorgeous fishing village on Macquarie Harbor. Had we had more time we could have taken a cruise along the Gordon River (I had done this previously about 20 years ago!), or taken a scenic plane trip over the rivers, forests and nearby mountain 'Frenchman's Cap'. There is always next time. We had a stroll along the shops and waterfront before dinner at Hamers Grill.


Day One | Day Two | Day Three | Day Four | Day Five | Day Six

All images contained in this site (unless otherwise stated) are copyright © Jane Gough 2006, and are not to be used without written permission.