Weather and Photography by Jane Gough, Melbourne, Australia
Tasmania April 2007
~ Day Four ~
I had to take a photo of the adorable 'Platypus Cottage' the next morning!
Travelling from Ellendale to Hobart this morning we drove on the southern side of the Derwent River, past golden Poplar trees and fields of hops, as well as the odd oast house used for drying out the hops. The whole area looked a lot dryer than further along the West Coast, and much of the land had been cleared for grazing, and the grass looked quite brown.
We had to be at the Cadbury Factory in Claremont mid morning for our 'tour', but still had plenty of time to wander around the banks of the Derwent in New Norfolk and photograph the amazing autumninal reflections on the still water, only disturbed by the passing of the Devil Jet boat!!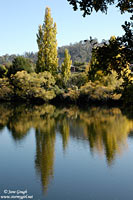 The Cadbury Factory Tour was quite interesting. We saw the chocolate being mixed, then poured into moulds before finally being wrapped ready for distribution. No camera's allowed understandably! We then traveled into Hobart and ambled around Salamanca Place and it's beautiful 1930's sandstone warehouses, now converted into galleries, shops and restaurants. A Market is held here every Saturday, but unfortunately today was Thursday!
After lunch we walked around the docks and spotted a sign I just had to take a picture of considering it's my nickname!
We then made our way to the top of Mt Wellington. We were so lucky being a clear day, as often the mountain can be covered in cloud. Last time I was here, all I could see were the distant lights of Hobart, and had no idea the surrounding area was so beautiful! The 21km journey from Hobart winds it's way through cool temperate forest to sub alpine vegetation to the pinnacle, or summit, rising 1270 m asl. It can often be 10 deg cooler than in Hobart itself, and today was 11C with a wind chill of 9C. The maximum wind gust I recorded was 26kph. It consists of dolerite and was named after the Duke of Wellington. The view of Hobart, the Derwent valley and the surrounding mountains was simply stunning.

On our journey towards Swansea, for our next nights stay, we called into the town of Richmond, made famous by the existence of the oldest bridge still in use in Australia. The arch sandstone bridge was built by convict labour and completed in 1825, and was heritage listed in 2005. The small town also boasts some beautiful preserved georgian sandstone buildings.
Day One
|
Day Two
|
Day Three
|
Day Four
|
Day Five
|
Day Six
All images contained in this site (unless otherwise stated) are copyright © Jane Gough 2006, and are not to be used without written permission.