Weather and Photography by Jane Gough, Melbourne, Australia
Snow, Fog and Frosts
~ July 2007 ~
The 7th of July just happened to be a Saturday, and with a low spinning over Eastern Victoria bringing rain from the south east and the prospects of snow down to around 1200m, the temptation was too great, and I jumped at the chance of taking a trip up to Mt Donna Buang! Especially after reading the morning's updated snow report!
---------
There is currently 15cm of snow at the summit offering good sightseeing and snow play. The road is open and clear to the summit gate but there may be patches of ice on the road so care should be taken. The toboggan runs are open. The hot food and toboggan hire van will be operating. Fees are being charged.
Report courtesy of ski.com.au
--------
There was a band of rain on the radar moving in from south east from the wrap around of the nearby low pressure system, and we timed our arrival at the mountain to coincide with the arrival of the precipitation...in the hope it would be snow!
I had travelled the road to get there only 3 weeks prior, but now I was amazed at the amount of water lying around the paddocks. The timber yard in Millgrove had some slight flooding in it, and the area around the Woori Yallock Creek also had large puddles of water. The Yarra River at Warburton was certainly a raging torrent compared to what it was 3 weeks earlier! There were also piles of snow on some car bonnets in Warburton!
Arriving just after 2:30pm, it was spitting slightly on the way up to the mountain, which soon turned to small floating flakes the further we ascended. At this stage it was only very light, and the road to the summit was clear apart from the snow on the sides of the road and in the trees. This was actually the most amount of snow I have seen here, and the fact that there was hardly a breath of wind added to the snow staying in the canopy, rather than blowing off onto the ground. It was a beautiful site!
The mountain was shrouded in low cloud, but it all added to the beauty of it! We were able to park in the top carpark before the summit gates and walk the final part to the summit, along with many other sightseers, tobogganists and a fellow snow chaser and ASWA member! The snow had piled quite thickly on branches and the leaves in some places.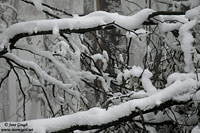 Today, the summit looked completely different! All the grass and plants I had photographed the frost on previously had disappeared under a thick blanket of fresh white snow!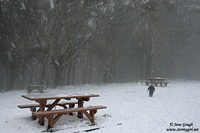 The falling snow was beginning to get larger and heavier, but the images don't quite do it justice. We then made our way back down to the car, and left at around 4pm down a snowy road! The snow line had descended a little further down the mountain than what it had been on the way up, and the snow hitting the windscreen soon turned to rain, and the fog disappeared. It continued to rain the whole trip home, where I received a welcome 5mm. All in all, an excellent first snow chase of the season!
~ June 2007 ~
On 18th June, I decided to take a short day trip up to nearby Mt Donna Buang, in the hope that I may encounter a passing snow shower! Unfortunately, the situation favoured western districts more so than the east. Throughout the morning, there were reports of snow on Macedon and possible sleet in Camperdown, Beaufort and Gisborne. Travelling out towards Donna, I was leaving the clouds behind and entering into blue skies, and found it quite disheartening! Ideally, I should have gone west towards Mt Macedon, but I needed to remain east of the city for later commitments.
---------
State Forecast Issued at 0500 on Monday the 18th of June 2007
Warning Summary A strong wind warning is current for all Victorian coastal waters including Port Phillip and Western Port and the Gippsland Lakes.
Current Weather Situation and Future Developments A cold upper level trough will move over Victoria today. A low pressure complex off the central NSW coast is likely to strengthen again on Tuesday before moving eastwards on Wednesday. A strong high pressure system will remain well south of the Bight until Thursday, allowing another cold front to move northwards over Victoria on Wednesday night to reinforce a cold unstable southerly airflow.
Victoria Monday: Scattered showers extending throughout. Local hail and thunder in western and central areas extending to the north in the afternoon. Snowfalls extending down to 700 metres. Cold to very cold with a fresh southerly wind.
---------
Above forecast courtesy the BoM.
The temperature ranged between 9°C and 10°C all the way from home to Warburton, By the time I reached the Donna Buang Summit turnoff it was down to 5°C, and dropped further to 0°C upon arriving at the summit carpark. There was no snow, but a beautiful frost in the tree canopy and on the grass. The coldest temp I recorded on my Kestrel was -1.6°C, with a wind chill of -2.4°C. It may have been colder, but my hands were beginning to numb! There were a few shallow clouds around, but, unfortunately, there was no precipitation.
~
After a rather mild April and May, June has been somewhat of a shock to the system with cold days and nights a plenty! Between the 11th and 13th of June I recorded a surprising 19mm of rain from a cold front and subsequent stream showers. Overnight on the 13th and 14th, temperatures plummeted across the State. At home, I recorded a minimum of 3.4°C just before 7:30am, and the first frost for the year on the car roof and windscreen. Here is a table showing various minimum and maximum temps for the 14th June.
| Station Name | Minimum Temp °C | Maximum temp °C |
| --- | --- | --- |
| Melbourne | 3.1 at 6:00am | 13.1 at 1:30pm |
| Melbourne airport | 1.8 at 5:30am | 11.7 at 3:00pm |
| Avalon | 3.7 at 4:00am | 12.7 at 1:00pm |
| Cerberus | 1.4 at 8:00am | 12.5 at 12:30pm |
| Coldstream | -2.4 at 8:00am | 11.7 at 1:30pm |
| Dunns Hill | 3.6 at 12:30am | 6.6 at 2:00pm |
| Essendon Airport | 1.2 at 7:30am | 12.2 at 12:30pm |
| Frankston | 4.4 at 7:30am | 12.5 at 2:00pm |
| Geelong Airport | 5.0 at 8:00am | 12.7 at 3:30pm |
| Laverton | 1.3 at 7:30am | 12.5 at 1:00pm |
| Moorabbin | 0.2 at 7:30am | 12.5 at 1:30pm |
| Pt Wilson | 8.5 at 7:30am | 12.7 at 2:30pm |
| Rhyll | 6.3 at 8:00am | 13.1 at 1:30pm |
| Scoresby | -1.2 at 7:30am | 11.6 at 4:00pm |
| Sheoaks | 0.9 at 8:00am | 10.9 at 2:00pm |
| Viewbank | -0.4 at 8:00am | 11.6 at 2:30pm |
| Mildura | 1.4 at 7:30am | 12.5 at 3:30pm |
| Mt William | -0.6 at 6:00am | 2.2 at 1:00pm |
| Ballarat | 2.6 at 7:00am | 9.5 at 3:00pm |
| Bendigo | 2.1 at 5:30am | 11.6 at 2:00pm |
| Wangaratta | 0.3 at 5:00am | 14.2 at 3:00pm |
| Yarrawonga | 1.6 at 7:00am | 13.7 at 3:00pm |
| Kilmore Gap | 1.1 at 7:00am | 7.5 at 3 :00pm |
| Latrobe Valley | -1.5 at 4 :30am | 11.7 at 2:00pm |
| Orbost | 5.7 at 6:00am | 11.5 at 3:00pm |
All data above courtesy of The BoM.
The 15th of June saw another morning of cold temps, and I recorded 4.4°C just before 6:30am. This morning also saw a beautiful fog blanket most of Melbourne, and didn't begin lifting in my area until after Midday. It was still only 9.2°C at 1:30pm. I took the opportunity to photograph the foggy conditions around the Malvern and Mt Waverley areas!


The fog descended on Melbourne again in the early evening, and the Bureau issued a road weather alert.
------------------------------------------
Priority Road Weather Alert
Issued at 1630 on Friday the 15th of June 2007
for the Melbourne metropolitan area.

Motorists are advised that widespread fog is likely to persist over the
Melbourne area until early Saturday afternoon. Visibility may be reduced to
below 100 metres in the thickest fog.
[ Radio media to play Severe Weather News Tag Alert 1 here ]

The current road weather alert, issued by the Bureau of Meteorology, indicates
that driving conditions may be difficult or hazardous.
------------------------------------------
~ November 2006 ~
I honestly didn't think I'd be taking photos of snow and hail in Melbourne in November, but stranger things have happened. It hailed constantly for at least 20 minutes (you can see the results on the ground!), followed by a brief snow flurry which, unfortunately, didn't settle. I will compile a report at some later stage, but in the meantime, please enjoy these images!



~ September 2006 ~
A cold front crossed Victoria on Sunday 24th September, bringing snow and cold temps in the subsequent cold pool. After a 30°C day the previous week, this came as somewhat of a surprise! Considering the snow season had been very poor and I hadn't seen snow for a year, I was beginning to think I wouldn't until next year! Here was my chance, so I grabbed it and headed off to Lake Mountain, North East of Melbourne, and at 1500 metres asl, snow was likely!
On Saturday, the wind was strong and gusty from the North West ahead of the front, prompting the BoM to issue a Severe Weather Warning for damaging winds. After a warmish night, I recorded 16°C at 9.40am on Sunday, the front came through at roughly Midday and the temperature plummeted to 10°C. Shortly afterwards we were on the road!
We passed through consistent pouring rain through the Yarra Valley, Healesville, and most of the way to Marysville, including the Black Spur which can be a treacherous drive even in the dry! It was 9°C in Healesville, 4°C in Marysville, and by the time we reached our destination it was 0°C or below. Thankfully it wasn't snowing when we got to Lake Mountain, but it certainly had been! I couldn't tell you how far up the mountain we ended up, but it certainly wasn't at the top carpark (Gerratys) as the snow was very sloshy and driving without chains was just too slippery.
Snow also fell today at Kryal Castle near Ballarat, Mt Donna Buang (1200m ASL), Trentham (near Daylesford) and graupel was observed on top of Mt Macedon (1000m ASL).
TOP PRIORITY FOR IMMEDIATE BROADCAST
VICTORIAN SEVERE WEATHER WARNING
for Localised Damaging Winds
For People in the Wimmera, North Central, Northeast, Western, Central, Gippsland
and Alpine districts.
Issued at 10:50 pm EST on Saturday 23 September 2006

North to northwesterly winds will strengthen overnight to reach average speeds
of 50 to 70 km/h with gusts of 90 to 100 km/h, mainly in elevated areas. In the
Alpine district average winds will reach 80 km/h in the morning with gusts to
110 km/h. Winds will shift squally west to southwesterly from the west during
the morning and may still gust to around 90 km/h for a few hours after the
change.
---

Victoria
Sunday: Rain areas and isolated thunderstorms turning to showers with
local hail and thunder from the west as fresh to strong and squally north to
northwest winds gradually turn colder west to southwesterly from the west.
Winds locally reaching gale force on and south of the divide. Snowfalls
developing over Alpine areas during the day, extending to as low as 600m in the
south tonight.
---
Issued at 11:23 AM Sunday, 24 September 2006,
Valid until midnight on Sunday, 24 September 2006.

Thunderstorms are possible across most of Victoria today, particularly near a trough currently over central Victoria moving eastwards, and near the coast. The thunderstorms could become severe, with damaging wind gusts the most likely phenomena, however large hail and heavy rain are possible if storms become organised over the east of the state this afternoon.
---

TOP PRIORITY FOR IMMEDIATE BROADCAST

SEVERE THUNDERSTORM WARNING
for DAMAGING WIND, LARGE HAILSTONES and FLASH FLOODING
For people in the Northeast, East Gippsland, West and South Gippsland, Alpine and parts of the North Central and Central Forecast Districts.

Issued at 12:37 PM Sunday, 24 September 2006.

Severe thunderstorms are likely to produce damaging winds, and possibly large hailstones and very heavy rainfall leading to flash flooding in the warning area over the next several hours. Major locations within the warning area include Seymour, Traralgon, Sale, Moe, Bairnsdale and Orbost.
---
All above charts, forecasts and warnings courtesy of BoM.
Please excuse the colour cast in some of these images as they were taken through the windscreen!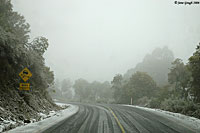 ~ July 2006 ~
Thick fog blankets Melbourne on Tuesday 25th July, causing disruptions at Melbourne airport. Visibility was down to around zero metres in the CBD which was the thickest for 2 years. The fog didn't begin lifting to reveal the sun until after midday.
A strong high pressure system dominates the South Eastern corner of Australia, bringing clear skies, sunny days and cold nights. Thursday 20th July saw the temperature plummet during the night in most parts of Victoria, and the BoM issued a widespread frost warning. It was the coldest night for me recorded on my weather station, with a minimum of 2.8°C at 6.21am on Friday morning. Other temperature obs around the state were as follows:
| Station | Temperature °C | Time |
| --- | --- | --- |
| Melbourne | 2.8 | 6am |
| Lookout Hill | 1 | 11pm |
| Moorabbin | -0.5 | 7am |
| Scoresby | -0.8 | 3am |
| Laverton | -1.2 | 7am |
| Wangaratta | -2.2 | 6am |
| Coldstream | -4.3 | 7am |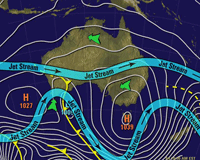 above image courtesy Weatherzone.
Victoria Frost Warning Issued at 2250 on Thursday the 20th of July 2006
Widespread frosts, locally severe, are expected in the Wimmera, Western, Central, Northern Country, North Central and Northeast districts Friday morning.
above warning courtesy BoM.
I woke up to ice on the car, and a small amount of frost on the garden. I also went in search of more at a local park.
~ June 2006 ~
A morning's drive up to the Dandenongs in search of fog on the 9th of June. I ended up at the Dandenong Ranges National Park at Tremont, the Puffing Billy Trestle Bridge in Belgrave, and then onto Emerald Lake Park. No fog at that stage!!

Winter began with a thick fog on June 2nd. By the time I managed to get out with the camera it had begun to lift, but there was still enough around to photograph at a local park!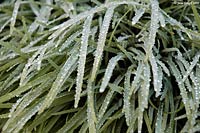 I then moved on to another park, but the fog had well and truly lifted at that stage.
~ March 2006 ~
I was intending on capturing the sunset at the Flinders Ocean Beach, but instead was treated to the incoming sea fog! It was a pretty amazing sight until I was blasted with cold damp air!!

~ September 2005 ~
I joined David Simpson for an afternoon of photography on Mt Donna Buang to capture some late season snow and icy conditions. To view his images from the day, go here.
~ July 2005 ~
The Family went on a short afternoon trip to Mt Donna Buang to experience some snow! It settled to around 1000 metres......and it was freezing!
All images contained in this site (unless otherwise stated) are copyright © Jane Gough 2006, and are not to be used without written permission.